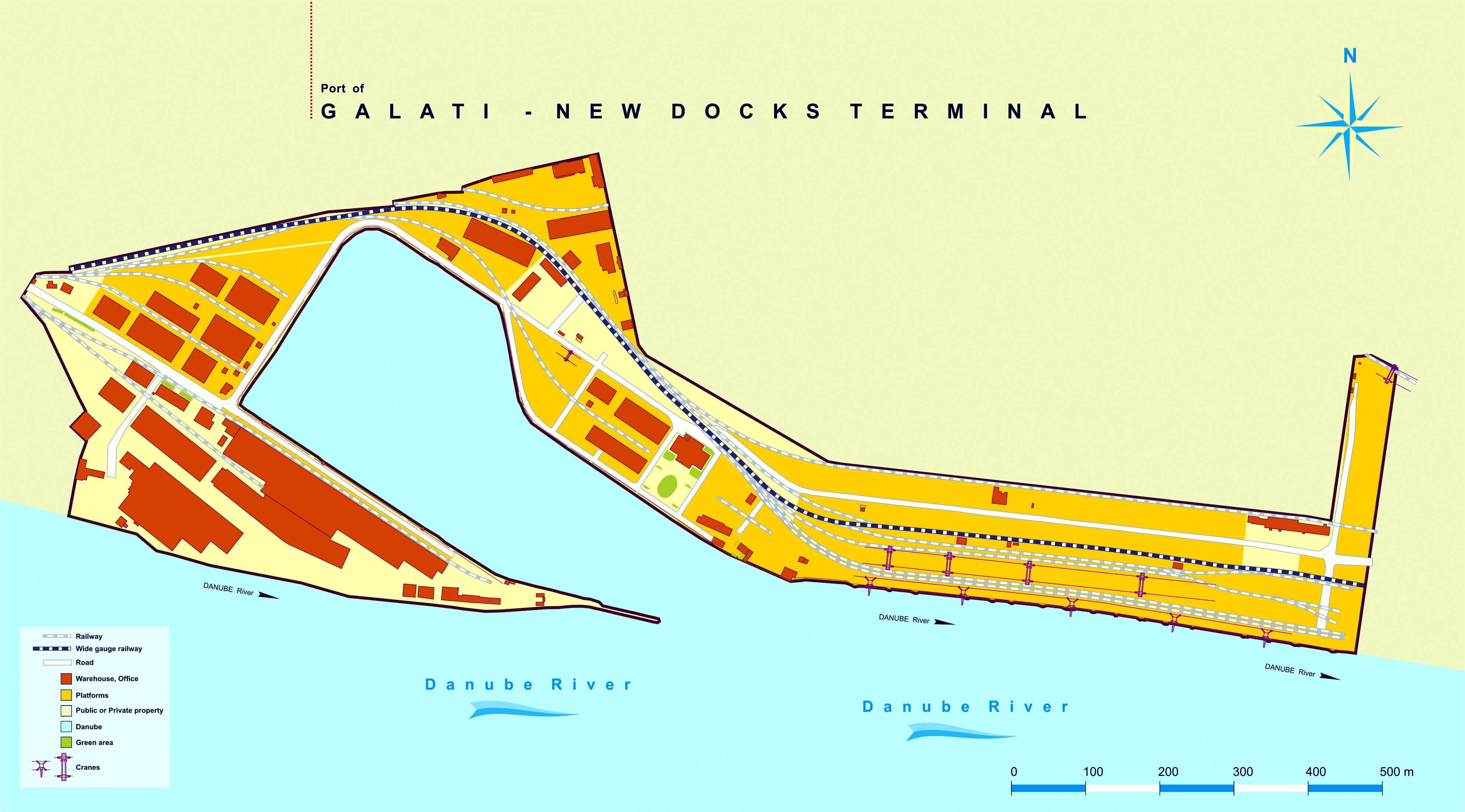 Overview:
Geographical position: Mm 79, near the Galati Free Zone.
Technical equipment of the port:
Floating cranes (10, 16, 32 t)
Quay cranes (6,3t, 10t, 32t - transcontainer)
Auto Cranes (30, 50t)
Forklifts (3,2t 5-7t, 10-14t, 22-25t)
Front loaders;
Fleet: pushers, tugs, barges and barges.
Port facilities:
The total area of the port is 510,952 sqm of which 73,967.00 sqm are located in the Galati Free Zone, and a length of 2041.58 ml;

Access to the port is done by road, rail (normal and wide) and by river:

The road network - allows the transit of both standard and oversized goods and is connected to the national road network, thus connecting with all European countries.
The railway - has a length of 6,474 meters, divided as follows:

1,717 meters of railway track for reception / delivery
4,257 meters front for loading / unloading
500 meters of wide railway for loading / unloading C.S.I. wagons. The handling of wagons inside the port is performed using our own locomotives.

The river path:

can be accessed with: barges, river vessels and sea vessels of max. 15,000 tdw (the capacity and draft of the ships allowed will depend exclusively on the maximum depth of the Danube registered at Bara Sulina).
along the Danube there are 8 berths 110 meters long, of which: 3 berths are located in the Free Zone and benefit from the facilities offered by it and 2 berths, 105 meters long each, are located in the port basin.
Services:
The Bazinul Nou port offers all the usual port services including:
loading / unloading (direct or indirect) of a wide range of goods such as:

steel products;
bulk goods: coal, coke, ores, ballast and quarry products, construction materials;
timber;
containerized ferrous waste and in bulk;
package freight
various industrial equipment ;
food.

stacking / mooring of goods on any means of transport
storage on concrete platforms with a total area of 131,105 sqm and / or in warehouses covering 46,303 sqm
river transport for steel products, bulk and general goods, cereals, ballast and quarry products.