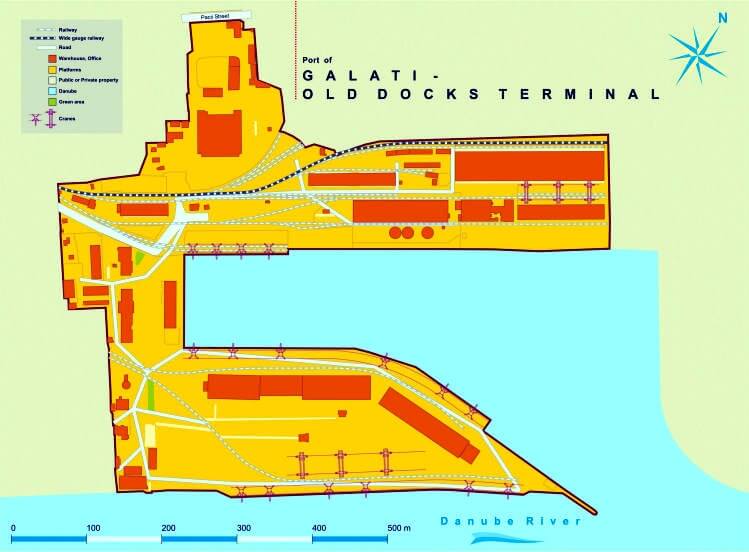 Overview:
Geographical position: located on the left bank of the Danube, Mm 80; (see map)
The quay front stretches over a length of 1,616 ml. of which 500 m to the Danube and the rest being related to the existing port basin;
Efficient port operation technology;
Multiple storage capacities as well as mechanical means for lifting, transporting and stacking goods ;
Utilities: electricity, water, natural gas.
Technical equipment:
Floating cranes (16, 32 t)
Dock cranes (5t, 8t, 10t, 25t – transcontainer)
Auto Cranes (25, 50t, 63t)
Forklifts (2t, 3,2t, 7t, 10t, 28t)
Front loaders;
Fleet: pusher.
Port facilities:
The total area of ​​the port is 295,886.00 sqm;
Access to the port is done by road, rail (normal and wide) and by river:

The road network – allows the transit of both standard and oversized goods and is connected to the national road network, thus connecting with all European countries.
The railway – has a length of 2,619 meters, divided as follows:

1,313 meters railway track for reception / delivery
1,206 meters front for loading / unloading;
100 meters of wide railway for loading / unloading wagons from C.S.I. The handling of the wagons inside the port is performed using its own locomotive.

River route:

access can be made with barges, river vessels and sea vessels of max. 8,000 tdw (capacity and draft of vessels admitted to operation depend exclusively on the maximum depth of the Danube recorded at Bara Sulina;
the port benefits from 7 berths, as follows: 3 berths of 120 meters long located along the Danube and 4 berths of 90-110 meters long located in the port basin. 1 berth 130 meters long is located in the port basin and specializes in grain.
Services:
Docks SA port offers all the usual port services including:
loading / unloading (direct or indirect) of a wide range of goods such as:

steel products;
bulk goods: coal, coke, ores, ballast and quarry products, construction materials;

ccontainerized ferrous waste and in bulk;

package freight
various industrial equipment ;
diverse echipamente industriale;
food.

stacking / mooring of goods on any means of transport
storage on concrete platforms with a total area of 131,105 sqm and / or in warehouses covering 46,303 sqm